Sound Source Visualization System "SoundViewer"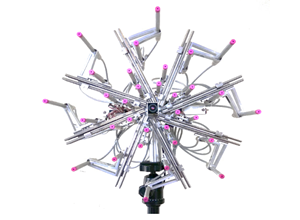 The system has 32 microphones in a unique layout, a camera in the center, and a control board on the back. It uses dedicated software to record and shoot in the direction of the sound (strange sound) to be explored, and displays the frequency components and sound pressure level at each moment.
In addition, it can map the analysis results to the captured images to visually display the location of the strange sound.
In the future, it is expected to be used in various fields, such as automobiles, OA equipment, heavy machinery, and residential construction.
MICRONET Corp.
Address
2-8-14 Honcho, Kawasaki-ku, Kawasaki, 210-0001
Tel
+81-44-244-9406
Fax
+81-44-244-9295