Precision Strip Processing Technology for Metal Foil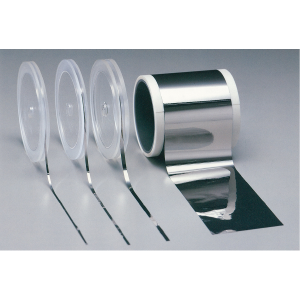 This technology is used to produce metal foils of less than 0.1mm in thickness nonstandardized by JIS, especially to produce ultimately thin micronised foils and tolerances of thickness. This company utilizes their own strip processing know-hows and heat treatment technologies to produce various metal foils, which is said to be difficult to create in the industry. They have established techniques to produce titan foils of 1μm in thickness, and pure magnesium of 2μm in thickness.
RIKAZAI Co., Ltd.
Address
1810-7, Shimonumabe, Nakahara-ku, Kawasaki, Kanagawa 211-0011
Tel
+81-44-411-6138
Fax
+81-44-422-5509
High accuracy mirror shaping surface processing technology "AP Mirror Profile"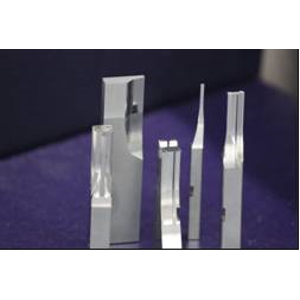 Using a profile grinder, this mirrored surface processing technology grinds ultra-hard materials with an accuracy of ±1 μm. Ever since its founding, this company has worked exclusively in profile processing, and with this technology, we guarantee a mirrored surface with Rz 0.2 μm or less, providing approximately double the accuracy of our competitors. Our products are mainly used for high precision press molds for micro-connectors and in-vehicle connectors.
Apic Co., Ltd.
Address
744-8 Unane Takatsu-ku, Kawasaki, Kanagawa 213-0031
Tel
+81-44-833-2406
Fax
+81-44-822-2318
Escalator Graphics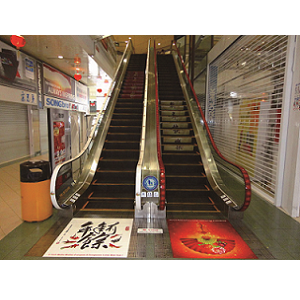 This technique allows to adhere decoration graphic films onto the steps and risers of an escalator. The special graphic films developed jointly with 3M Japan and the patented installation method have enabled to stick safely on uneven surfaces and to peel off cleanly after use. Your idea will find a wide variety of application such as a notice for preventing fall accident, sales-floor instructions, and an advertisement for sales promotion.
Asai Marking System Corporation
Address
2-3-13 Kurigi, Asao-ku, Kawasaki, Kanagawa 215-0033
Tel
+81-44-980-1600
Fax
+81-44-980-1603
Their unique, mold-less "Nylon Vacuum Casting System" is ideal for low-volume production.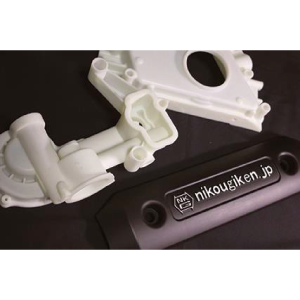 A newly established high-strength, heat-resistant glass-incorporating nylon-casting technique made possible by harnessing casting techniques developed over many years by the company. This technique enables cheaper, faster processing than conventional production techniques entailing the utilization of metal molds and machining procedures. Weight savings to achieve improvements in fuel consumption have been sought in the automotive industry, a sector of the economy that has been marked in recent years by eco-oriented trends. The company's techniques are being harnessed as manufacturers make the switch from metal parts to resin parts.
Nikougiken Co., Ltd.
Address
KBIC113., 7-7 Shin-Kawasaki, Saiwai-ku, Kawasaki, Kanagawa 212-0032
Tel
+81-44-223-7820
Fax
+81-44-223-7821
"Nissei-Micro 5AX" fine and combined resin cutting processing technology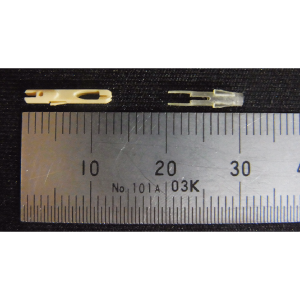 This fine combined resin cutting processing technology had been cultivated by this company over the years to perform thin-wall processing, fine slit processing, small-diameter hole making, and fine screw gear cutting using a machining center for five-axis simultaneous machining. This technology supports the special processing that tends to break tools and where it is difficult to achieve the required dimensional accuracy with ordinary cutting methods or clamps.
Nissei-Kogyo Co., Ltd.
Address
2-24-1 Miyauchi, Nakahara-ku, Kawasaki, Kanagawa 211-0051
Tel
+81-44-797-2223
Fax
+81-44-797-2224
"Gold-saving" plating technology for reducing gold plating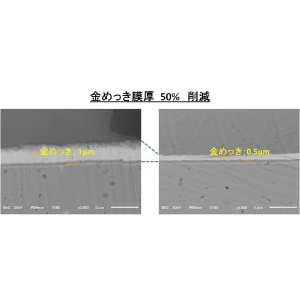 The plating solution used with this technology was developed completely in house. Offering precise gold plating and optimum foundation plating film according to user specifications succeeded in reducing the thickness of gold plating by over 50 percent compared to conventional gold plating and achieved cost reductions while maintaining the electrical function and corrosion resistance.
AITECHNOLOGY
Address
【Headquarters】Masonic 39MT Building 8F, 2-4-5 Azabudai, Minato-ku, Tokyo 106-0041
【Kawasaki plant】3-11-1 Wataridashincho, Kawasaki-ku, Kawasaki, Kanagawa 210-0844
Tel
+81-44-344-5961
Fax
+81-44-344-5023
"Nano Grind" fine and precision grinding processing technology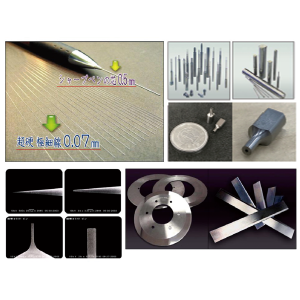 This technology produces machinery that can precisely scrape and grind hard materials, such as cemented carbide, ceramics, and diamonds, using diamond grindstones or powder. In the processing of pins and shafts, this technology achieved high processing accuracy of one hundred-thousandth of a millimeter (10 nano) for the outer diameter accuracy, roundness, and surface roughness.
Sanwa Creation Co., Ltd.
Address
1-26-8 Miyauchi, Nakahara-ku, Kawasaki, Kanagawa 211-0051
Tel
+81-44‐740-6800
Fax
+81-44‐740-6801
"Kyokumen impresson" one-time curved object and polytope screen-printing technology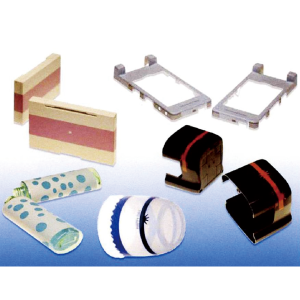 This technology enables the screen-printing of the entire circumference of multangular shapes (such as boxes) and elliptical cylinders (oval bottles) in one operation. The result is a beautiful finish with no seams for a significant reduction in printing costs.
Daiya Technical Arts Co., Ltd.
Address
119 Kanigaya, Takatsu-ku, Kawasaki, Kanagawa 213-0025
Tel
+81-44-754-6381
Fax
+81-44-754-6391
"Fuji Jet" super-high-rise apartment drain cleaning technology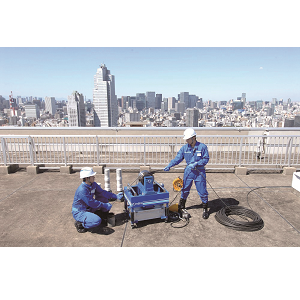 This technology enables the washing of shared drain riser pipes in superhigh-rise apartments taller than 60 meters from ground (20 stories) level. The hose winding system with the speed adjustment function and the special rotary nozzle were developed in house to achieve quality improvement, save labor, improve efficiency, reduce costs, and minimize risks.
Fujiks Co., Ltd.
Address
1-8-2 Kaizuka, Kawasaki-ku, Kawasaki, Kanagawa 210-0014
Tel
+81-44-245-0822
Fax
+81-44-245-0824
"Infinite ∞ stamping" difficult-to-process and fine shape stamping technology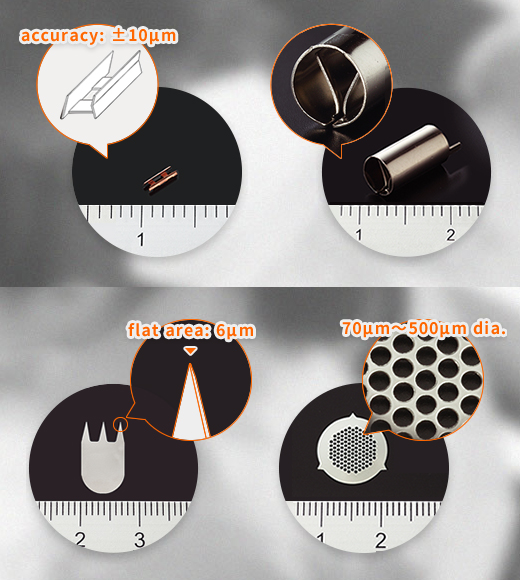 Based on a unique mold design free of fixed concepts, this technology enabled the development and commercialization of press working products with hard-to-process or fine shapes that had been considered difficult to press from the viewpoint of conventional press working. The technology contributes to the high-quality, low-cost production of products with difficult-to-process or fine shapes.
JKB Co., Ltd.
Address
2-34-21 Shimosakunobe, Takatsu-ku, Kawasaki, Kanagawa 213-0033
Tel
+81-44‐888-1121
"Mega nickel" supersized thick electroless nickel plating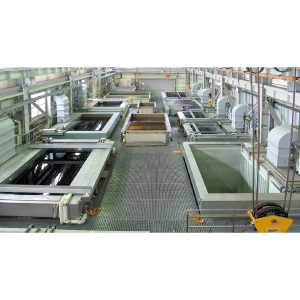 Precise management of one of the largest dedicated electroless nickel plating lines in the country makes it possible to apply thick plating at least 200 μm thick for precision machinery components in complicated shapes. Applying the plating film uniformly using a chemical reaction provides superior corrosion control.
Brother Co., Ltd.
Address
3-8 Asano-cho, Kawasaki-ku, Kawasaki, Kanagawa 210-0854
Tel
+81-44-322-7571
Fax
+81-44-322-7780
Heat Exchanger "Cold Plate"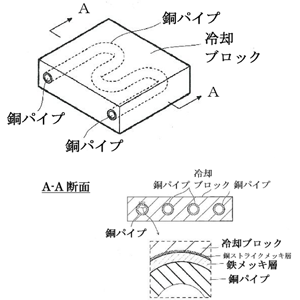 This heat exchanger consists of a copper pipe embedded in a cooling block made of aluminum. The iron plating applied around the copper pipe prevents melting and deformation of the copper pipe during the casting of the aluminum, while improving the adhesion between the copper pipe and the cooling block.
Due to the high cost of copper material with high heat exchangeability properties, stainless steel pipes are usually embedded in the material. However, this product can reduce the cost by improving heat exchangeability.
In the future, this product is expected to be used as a component for equipment in the field of communications.
SANTEC Co., Ltd.
Address
2-28-2 Miyauchi, Nakahara-ku, Kawasaki 211-0051
Tel
+81-44-799-9221
Fax
+81-44-799-9223