Parts counter for automobile production lines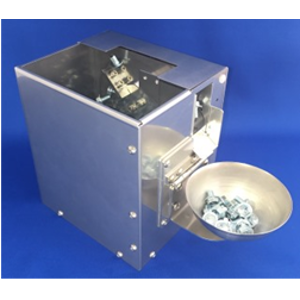 This device supplies the right bolts and nuts to operators in automobile production lines right when they need them and in the proper amounts. This company was matched with the Kawasaki Intellectual Property Exchange Project, received permission to use patents owned by a major corporation, and solved the problems with existing products by implementing proprietary improvements developed through a series of prototypes. The product we created in this way is more user-friendly and practical than any other system up until now.
Mice Co., Ltd.
Address
3-6-12 Kuji, Takatsu-ku,Kawasaki, Kanagawa 213-0032
Tel
+81-44-813-7530
Fax
+81-44-813-7531
High accuracy mirror shaping surface processing technology "AP Mirror Profile"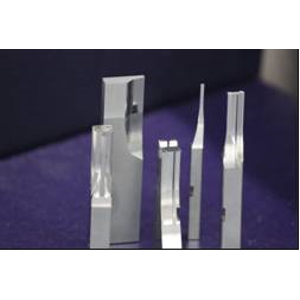 Using a profile grinder, this mirrored surface processing technology grinds ultra-hard materials with an accuracy of ±1 μm. Ever since its founding, this company has worked exclusively in profile processing, and with this technology, we guarantee a mirrored surface with Rz 0.2 μm or less, providing approximately double the accuracy of our competitors. Our products are mainly used for high precision press molds for micro-connectors and in-vehicle connectors.
Apic Co., Ltd.
Address
744-8 Unane Takatsu-ku, Kawasaki, Kanagawa 213-0031
Tel
+81-44-833-2406
Fax
+81-44-822-2318
Reciprocal diagnosis overall water quality observation device "Yu" ODS-8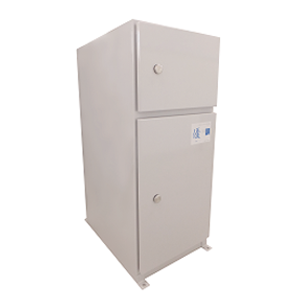 This device uses a variety of perspectives for analyzing water quality for pool water, tap water, shared community water, and other water sources. As a comprehensive water quality analysis device, this product is the first of its kind worldwide to conduct 8 different measurements simultaneously. In addition to the improved credibility and stability achieved by the precision of the reciprocal diagnostic approach, its self-diagnosis and remote maintenance functions make a completely maintenance-free facility possible.
Shoei Co., Ltd.
Address
2-6 Shinagawasaki Saiwai-ku, Kawasaki, Kanagawa 212-0032
Tel
+81-44-589-1601
Fax
+81-44-589-1602
Ecologicon environmentally friendly concrete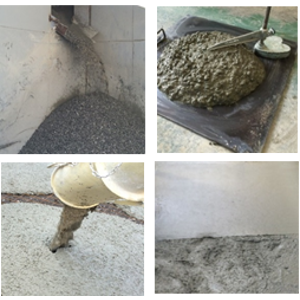 Up until now, concrete that was unused at construction sites has been discarded as industrial waste, but with our new specialized facility, this waste product can be refiltered and used just like fresh concrete. Unlike previous recycled concrete products, aggregate elements are removed from the unused, pure concrete state, so there are no impurities like construction waste materials present. The result is a safe and high quality recycled pure concrete product.
Koushou Sangyou Co., Ltd.
Address
6-8 Ogimachi Kawasaki-ku, Kawasaki, Kanagawa 214-0867
Tel
+81-44-344-3434
Fax
+81-44-344-3400
The skin moisture and oil sensor "Natural Sensor"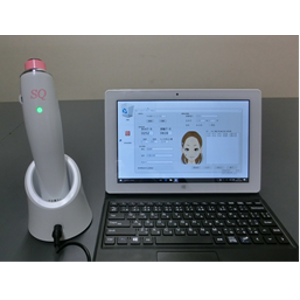 This skin measurement device was designed to be easily usable by anyone. Our proprietary technology starts measurement immediately once the sensor is in proper contact, and the visualization function for the extent the device is pushing into the skin improves reproducibility, even among users not accustomed to the measuring process.
Nihon System Research Institute Inc.
Address
Tōkeidensan Nakahara Bld.1F, 5-11-21 Shimokodanaka, Nakahara-ku, Kawasaki, Kanagawa 211-0041
Tel
+81-44-740-3351
Fax
+81-44-740-3352
Instantaneous power failure alarm "Eremo"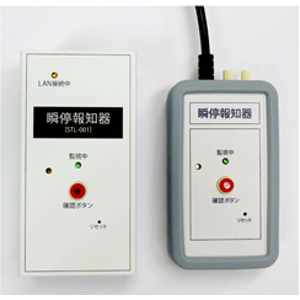 This device reports instantaneous power failure and power outages resulting from switchover in supply routes at the power company, lightning strikes, and other causes to the user. This product is low-priced and installs easily by just inserting it into an outlet. It can be used for a wide variety of applications such as pet hotels, various production lines, and greenhouses for farming, and contributes to reducing risks associated with equipment failure.
SK Japan Co., Ltd.
Address
1-19-6 Shimokodanaka Nakahara-ku, Kawasaki, Kanagawa 211-0041
Tel
+81-44-751-5858
Fax
+81-44-766-4114
Automated coating weight measurement system and thin film membrane coating device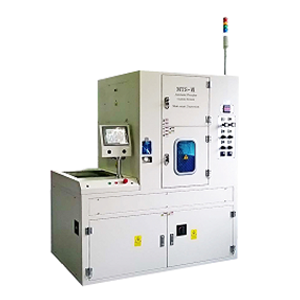 This thin layer filmed laminate coating device can immediately measure and control a trace amount (0.01mg/c㎡ level) of application weight.
It owns various proprietary technologies, including the Impact Pulse® Method to apply any type of coating material uniformly in a thin layer even on corrugated surfaces. This device can apply to LED chips for multicolor laminate coatings, as well as fuel cells, all-solid batteries, electrode formation for rechargeable batteries, and the electronics field, and so on.
Mtek-smart Corporation
Address
【Kawasaki LAB.】KBIC # 115 7 – 7 Shinakawasaki Saiwai-ku Kawasaki, Kanagawa 212-0032
【YOKOHAMA Office】8F,#12 Nisso Bldg.,3-6-12,Shin-yokohama,Kohoku-Ku, Yokohama, Kanagawa 222-0033
Tel
+81-45-620-8062
Fax
+81-45-330-4288
Dimmer signal and PWM converter for use with LED variable lighting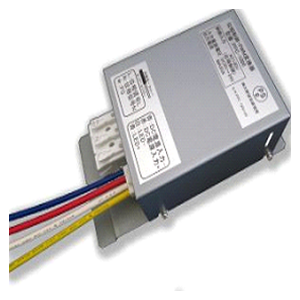 Using the phase control dimmer switches currently on the market for use with incandescent lighting, this device adds dimmer functionality to direct current, low voltage LED lighting that is normally incompatible with it. Because it uses standard dimmer switches, it contributes to resource conservation by decreasing construction time and wage requirements. Compared to lookalike products made by other companies, this product offers improved compatibility, and can be used with almost any dimmer switch on the market. The light control is also extremely sensitive, with 4,096 different levels available.
Ohno Research and Development Laboratories Co., Ltd.
Address
【Head office】1-12-1 Sugesengoku, Tama-ku, Kawasaki, Kanagawa 214-0006
【Business Office】2-40-1 Higashitamagawa Setagaya-ku,Tokyo 158-0084
Tel
+81-3-6425-2250
Fax
+81-3-6425-2251
Tablet data syncing software and cableless charging rack, "Tablet Admin"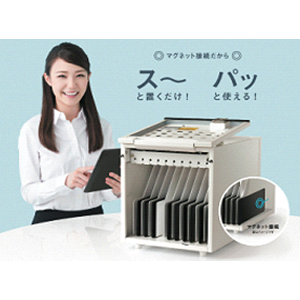 Simply connect the dedicated magnetic plug cover to a tablet, and you can charge multiple units at the same time with no cables using this charging rack. Software is also available that can sync data for up to 40 tablets at the same time, making paperless preparations for meetings more efficient and providing universal management of all your tablets.
Toshin Electric Co.,Ltd.
Address
Micom City, 2-6-4 Kuriki, Asou-ku, Kawasaki, Kanagawa 215-0033
Tel
+81-44-980-3120
Fax
+81-44-980-3145