High Performance Recycled Plastic "Daiplast-Wood"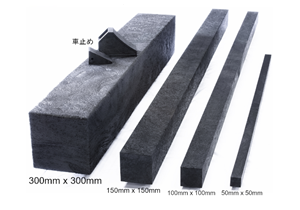 In order to create this recycled plastic, they sort and crush waste plastic materials such as electric wire coating materials, melt them with heat, inject them into molds, and cool them. With their unique raw material production technologies and molding technologies, the company has achieved a strong and durable ("strong," "unbreakable," "rot-proof," and "rust-proof") plastic, which has changed the image of conventional recycled plastics.
In addition to its demand as industrial materials for railways, automobiles, and construction, this plastic has also been widely used, including as weights to prevent soccer goals from tipping over.
Daiichi-Pipe industry co., Ltd.
Address
9-4 Chidori-cho, Kawasaki-ku, Kawasaki, 210-0865
Tel
+81-44-276-1800
Fax
+81-44-277-0619