Recommendation System "Ten Voice"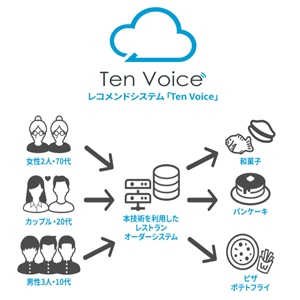 This recommendation system is based on NTT's open patent, with the addition of the company's original improvements. It creates models for each attribute, such as family and friends, using the history of past users of the service, in order to provide highly accurate recommendations even to customers who are new to the service.
In addition, it can be tuned to fit each store's products and customer base, so that it can provide a high quality recommendation system at a low price.
In the future, this system is expected to be used also for introducing human resources, mainly in the fields of restaurant and retail.
ZENK Co., Ltd.
Address
5F, Nobuyuki Building, 1 Yanagicho, Saiwai-ku, Kawasaki 212-0015
Tel
+81-44-511-4222
Fax
+81-44-873-7886